The AmScope MD35A MD35 digital camera is the perfect way to get the most out of your microscope. This high-quality 640×480 resolution camera offers great performance and compatibility with a wide range of operating systems.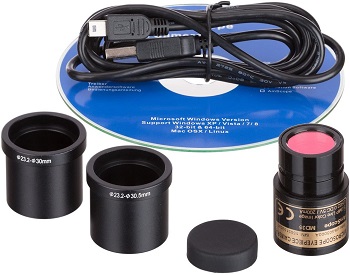 AmScope's MD35A digital microscope camera is the perfect way to share your discoveries with the world! This powerful device can capture still images and stream real-time videos on your computer screen, making it easy to share your findings with colleagues or students. The MD35A is also a great tool for home hobbyists, allowing you to explore the amazing world of microscopic life up close. So don't miss out on this incredible opportunity to see the universe in a whole new way – order your AmScope MD35A today!
The AmScope MD35A digital USB microscope camera is perfect for advanced editing and processing software for Windows users. With features like stitching, EDF (Extended Depth of Focus), and measurement, you can get the most out of your microscope!
Fancy up your microscope with some modern technology! The AmScope MD35A Microscope Imager Digital USB Camera will add real-time video capability to any microscope with a standard 23mm, 30mm, or 30.5mm photo port. So you can explore the world in a whole new way!