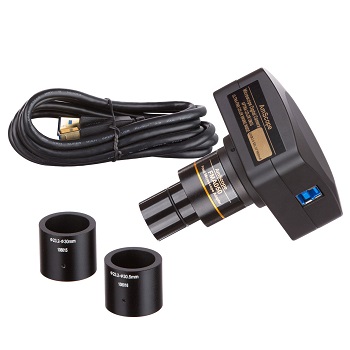 This 18MP USB3.0 digital camera is designed to work with Windows XP/Vista/7/8/10, Mac OS, and Linux systems! Capturing still images, streaming live videos, and providing excellent compatibility make this camera perfect for a variety of purposes!
The AmScope MU1803 18MP USB3.0 Real-Time Live Video Microscope Digital Camera is perfect for a wide range of applications, from hobbyists to professionals. The user-friendly software for Windows offers editing/processing and advanced features including Stitching and EDF.
With an impressive 18MP resolution and the ability to capture live video, this AmScope microscope digital camera is perfect for researchers and scientists of all levels. Whether you're a beginner just starting out or a seasoned pro, this camera will give you the power to see things in a whole new light. It's also compatible with a wide range of software, making it easy to get started right away. So why wait? Order your AmScope MU1803 today!