Microscope Specifications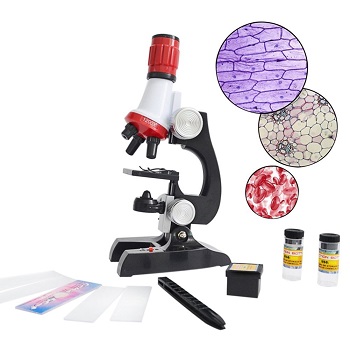 AmScope ETXWJ04 Microscope With LED provides magnifications of 100X/400X/1200X.
Beginner compound microscope provides high magnification of 100X, 400x, and 1200x.
The accessory box includes all the necessary things for the magnification of the specimens.
A monocular viewing head with LED provides high-quality magnified images of the observed specimen.
Requires 2AA batteries (not included)
Introducing the IQCREW microscope from AmScope! This powerful beginner compound microscope is perfect for educational applications, providing high magnification for viewing specimens at 100X, 400x, and 1200x magnifications. The included LED light makes specimen observation easy and clear, while the sturdy metal frame ensures durability. Plus, the included accessory set provides all the tools you need to get started. Order your IQCREW microscope today!
The AmScope-ETXWJ04 IQCREW Microscope is the perfect way to introduce your child to science! This toy microscope comes with everything necessary for a child to get started dissecting specimens, and the monocular viewing head ensures clear bright images. The LED light makes it easy to see in any setting. Requires 2AA batteries (not included).