Microscope Specifications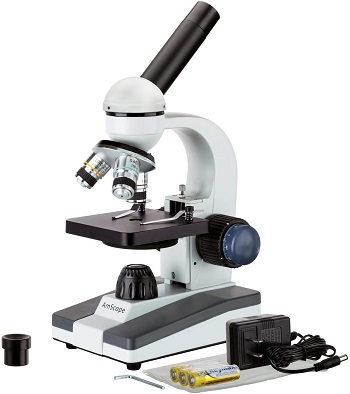 AmScope M150C-I 40x-1000x Microscope is simple and easy to understand for anyone, however, he is a student, teacher or an expert in the science field.
The rotatable head moves 360-degree and provides magnifications of 40x, 100x, 250x, 400x, and 1000x.
Disc diaphragm condenser with a single lens.
It uses a power supply of 110 V.
LED is used in this microscope for the proper magnification and to make clear images.
This AmScope M150C-I Compound Microscope is the perfect tool for budding scientists of all ages! With five magnification settings and a 360-degree rotatable monocular head, it's easy to get a clear view of everything under the lens. Whether you're studying biology in school or just looking to explore the world around you, this microscope is up for the task.
This microscope is perfect for students of all ages. The widefield optical glass elements provide stunning views of specimens, and the LED illumination system means you'll never have to worry about running out of power. Plus, the all-metal construction ensures that your microscope will last for years to come.