Microscope Specifications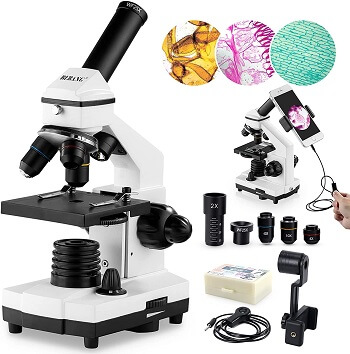 WF25x eyepiece alone or with 2x lens, 3 objective lenses of 4x, 10x, 40x, with the magnification settings of 100x, 200x, 250x, 500x, 1000x, that provides the High quality of magnifications.
A monocular Microscope with a solid metal frame and fine focusing knobs provides the clarity of images.
LED system and 0.65 NA-lens condensers with the disc diaphragm that provides bright and clear images.
Complete accessories and observation needs are provided with the microscope like phone adaptor, wire shutter any many more.
The 100x to 200x is design in such a way that every person can understand it as well as operate it properly.
Study the world beneath your fingertips with the BEBANG 100X-2000X Microscope! Offering 6 magnification settings, this microscope provides stunning views of everything from bacteria to blood cells. Whether you're a student or a scientist, these microscopes are perfect for exploring the hidden wonders of our natural world.
Looking for a microscope that provides both clear and sharp images? Look no further than the BEBANG 100X-2000X model. With its coarse and fine focus capabilities, you can easily adjust the focus to get the clearest image possible. Plus, with its solid metal frame, this microscope is sure to last.
The BEBANG Microscopes are perfect for budding scientists of all ages! With dual illumination systems and high-resolution color corrected images, these microscopes are sure to give you a clear view of the world around you.
This powerhouse comes complete with a phone adapter, wire, and 10 operating accessories to make your observations easier than ever. Plus, the included 15pcs microscope slides set gives you everything you need to get started right away. And if that's not enough, the included carrying bag makes transport easy.
It offers 100X-2000X magnification, they are perfect for students, kids, adults, and anyone interested in learning more about biology. Whether you're using them in a lab or at home, these microscopes are sure to provide hours of educational fun!