Microscope Specifications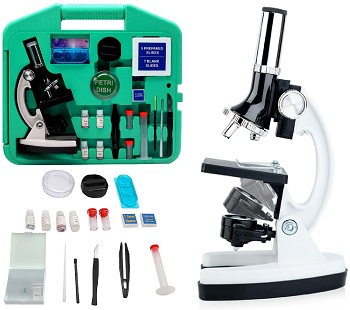 HISCI Microscope is a perfect gift for kids who are interested in science. It helps them to learn, oberve and explore many things in biology.
A monocular viewing head with LED and mirror illumination helps to view the clear image of magnification.
The eyepiece of 20x with a rotating turret of 3 lenses with magnifications of 100x, 600x, and 1200x respectively, and the color filter wheel for the transparent and more decent result.
The microscope is built with a metal body and the rubber coating extra protection that protect your frame and can be used for long-lasting.
The kit of the microscope includes a microscope, Slides, Slide Cover, Cover Glasses Slips, micro slicer, test tube, and many more things related to the microscope.
Introducing the Hi!SCI microscope – perfect for beginners of all ages! This fun and educational gift make scientific investigation easy and enjoyable. With a variety of magnification levels, the Hi!SCI microscope allows users to observe everything from bacteria to histology. Plus, with its drug-testing capabilities, the Hi!SCI microscope is ideal for anyone interested in biology or pharmacology.
Hi!SCI is a beginner-level compound microscope that's perfect for educational applications. With its monocular viewing head, LED and mirror illumination, and color filter wheel, you can explore the world in intricate detail.
With its adjustable magnification and color filter wheel, the Hi!SCI microscope is perfect for budding scientists of all ages. Whether you're looking at cells under a high magnification or studying the natural colors of a specimen, this microscope has everything you need to get up close and personal with the world around you.
Looking for a microscope that will withstand the test of time? Look no further than Hi!SCI's die-cast metal body microscope! This tough tool is perfect for young explorers, with a rubber coating that adds extra protection from accidental bumps.
Introducing the Hi!SCI microscope kit – the perfect way to explore the microscopic world! This complete kit includes everything you need to get started: a microscope, slides, slide covers, cover glasses, a brine shrimp egg, gum media dye, eosin dye, sea salt, a shrimp hatchery, a micro slicer, a petri dish, tweezers, specimen vials, test tubes and more! With this kit, you'll be able to view tiny organisms and particles in stunning detail. So dive into the fascinating world of microscopic life today with the Hi!SCI microscope kit.