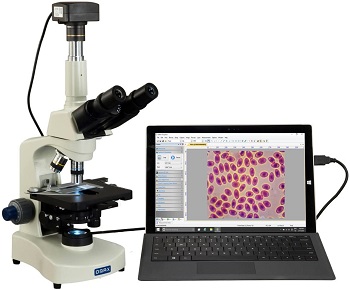 Delight in detail with the OMAX M8311Z-PHC2-C180U3 Trinocular Compound Microscope! This powerful microscope offers a total magnification of up to 2500X, making it perfect for examining everything from specimens to fabrics. Plus, the included phase contrast kit allows for enhanced viewing of transparent objects. The 30-degree inclined and 360-degree rotatable view head ensures an easy observation angle, while the adjustable eyepieces make for a comfortable viewing experience.
This OMAX M8311Z-PHC2-C180U3 Trinocular Compound Microscope is perfect for students, researchers, and professionals. With an adjustable diopter and a range of stage sizes, it's easy to find the perfect microscope for your needs. Plus, the LED light makes it easy to view even the smallest objects clearly.
This microscope is perfect for the scientist in your life! It features a condenser with an iris aperture diaphragm and filter holder, allowing you to adjust the light levels to get the perfect image. Plus, it comes with a phase-contrast kit that lets you view objects in different phases of light. Whether you're a student or a professional, this microscope will help you achieve your scientific goals.
This microscope is perfect for anyone looking to capture amazing images and videos of objects up close. With a resolution of 4912×3684 pixels, it produces stunning detail and clarity. The included USB 3.0 cable ensures smooth, fast transfers of data, while the software compatibility makes it easy to edit and share your findings with others.
With a 5-year warranty against manufacturing defects, this microscope is perfect for students and professionals. Its Trinocular design gives you a clear view of your specimen, while the C180U3 camera ensures high-quality images.