Microscope Specifications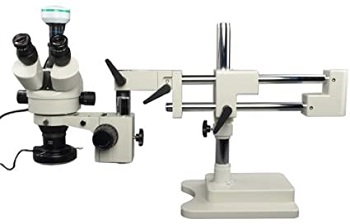 The triangular head f OMAX W43C2-L144L-C20C can be rotated 360 degrees and can bend up to 45 degrees, the field of view goes up to WF 10x /20x, and the WF20x objective lens can be zoomed up to 0.7-4. 5x. it doesn't have a high magnification (3.5x 290 xs)
Prolonged area for operating without additional objectives lens 100mm (3-15/16) and with the additional objective lens it provides 165 mm (6-1/2 inch).
The total length of the stand is 27 inches, and the total height of the boom stand is 16~3/4 inch
The light source type used in this microscope is 144 LED light with a rheostat to control the light's intensity. The total power it can use is AC 100v – 240, 50/60 Hz.
An additional camera is given to view topper color and connect it with different multimedia devices or different types of windows.
USB cable is also added and has a warranty of 5 years in the manufacturing defects.
This amazing microscope gives you the power to explore the world around you in stunning detail. With a magnification range of 3.5x-90x, it's perfect for everything from classroom science experiments to detailed personal exploration. The trinocular head design makes it easy to share your observations with others, and the adjustable eyepieces and interpupillary distance ensure a comfortable, customized viewing experience for everyone.
The OMAX 3.5X-90X Digital Zoom Trinocular Stereo Microscope is the perfect instrument for viewing specimens and objects up close. With its long working distance, large field of view, and adjustable boom stand, this microscope is ideal for a variety of applications. Whether you're a student or professional scientist, the OMAX 3.5X-90X Digital Zoom Trinocular Stereo Microscope is the perfect tool for your needs.
The OMAX 3.5X-90X zoom stereo microscope is perfect for viewing tiny objects up close. With its adjustable illumination and power input, it's perfect for use in a variety of settings. The included ring light adapter makes it easy to get started right away.
The OMAX 3.5X-90X Digital Zoom Trinocular Stereo Microscope is a powerful microscope that lets you capture stunning images and videos of your specimens. With its 1600 x 1200 pixel resolution, 2.0MP digital camera, and 0.45X reduction lens, you'll be able to get a clear view of even the smallest details. The included software makes it easy to take pictures or record videos of your findings, and the USB cable ensures quick and easy data transfer.
It provides a 5-year warranty against manufacturing defects.