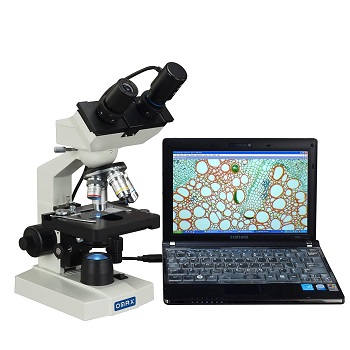 If you're looking for a microscope that's as advanced as you are, look no further than the OMAX XM82ESC02. This top-of-the-line digital microscope offers five levels of magnification, from 40x to 2000x, so you can explore the tiniest details with ease. The binocular viewing head gives you a clear, uncompromised view of your specimen, while the adjustable interpupillary distance ensures a comfortable viewing experience for everyone. And don't forget about the LED illumination system – it provides bright, even lighting without overheating your sample. So if you're ready to take your science experiments to the next level, pick up an OMAX XM82ESC02 today!
Looking for a powerful microscope that's easy to use? Check out the OMAX XM82ESC02 Digital Lab LED Binocular Compound Microscope. This top-quality microscope offers adjustable ocular diopters on both eye tubes, plus a revolving quadruple nosepiece for quick swapping of specimens. Plus, the stage features a double layer size of 4-1/2inchx 4-15/16inch (115mm x 125mm), with an x-y stroke range of 2-13/16inch x 1-3/16inch (70mm x 30mm). And don't forget the NA1.25 Abbe condenser with iris diaphragm, which provides excellent image quality and contrast
OMAX's digital LED binocular microscope is perfect for students and hobbyists of all levels! Its powerful transmitted illuminator and focus adjustment knobs make it easy to get a clear view of your specimens. Plus, its all-metal construction ensures durability and longevity.
Digital camera: – true color 640 x 480 pixels – 0.45X reduction lens to get larger field of view – Software compatible with Windows XP/Vista/7/8/10, and Mac OS – Capturing microscope images, recording live video, measuring lengths, angles, areas, editing images