Microscope Specifications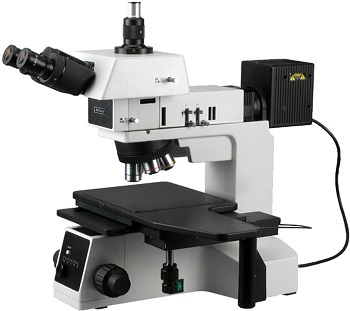 AmScope ME600TZA metallurgical microscope is specifically build to view metallic objects that include any digital or wide objects that are not able to be viewed on a simple microscope's stage.
It consists of a stage that can be removed easily and is double-coated; it also has some materials to remove the tension in the stage.
Eyepieces are planted at a higher point and can be changed with 10*22mm and 15*16mm wide fields. One of them (10mm) is used to compute one eyepiece. Field glasses are adjusted at a very reasonable range of 48 to 75mm, opposite pentangle nosepiece having 5x, 10x, 20x, 50x, and 100xs lubricant and gives fragrant objectives which can provide prolonged working area and balanced colors and fined focus in the whole file.
Mirrored and transferred light system along with both light /dark fields. The light used in this microscope is halogen, and LED light also has features to control its intensity.
The AmScope ME600TZA Episcopic Trinocular Metallurgical Microscope is the perfect tool for viewing metallic specimens. Whether you're inspecting electronics or larger specimens that can't be viewed on a standard microscope stage, this metallurgical microscope delivers high-quality images with ease. Featuring a trinocular head and adjustable illumination, the ME600TZA is perfect for any lab.
The AmScope ME600TZA Episcopic Trinocular Metallurgical Microscope is perfect for viewing tiny objects in detail. The interchangeable pairs of 10x22mm and 15x16mm plan high-eyepoint extreme-widefield eyepieces provide a range of magnification options, while the Siedentopf binocular head with 48 to 75mm interpupillary adjustment ensures a comfortable viewing experience. Additionally, the fixed 25-degree vertical inclination reduces eye and neck strain, and the 360-degree rotation capability enables sharing with others.
The AmScope ME600TZA Episcopic Trinocular Metallurgical Microscope is perfect for metallurgy applications. The reverse-mounted quintuple nosepiece with 5x, 10x, 20x, 50x, and 100xS (oil) infinity plan achromatic objectives provide a longer working distance and color correction. The improved focus over the entire field of view means you can see every detail.
The AmScope ME600TZA Trinocular Metallurgical Microscope is perfect for viewing the structure of both non-metallic and metallic specimens. With its episcopic and diascopic illumination system, you can see your specimen in a variety of different ways. The Brightfield/Darkfield illumination mode lets you see the surface features of your specimen clearly, while the polarizing mode allows you to view the internal structure. And with 100W halogen illumination, you can always control the light intensity to get the perfect view.
This microscope is perfect for serious students or researchers. Its double-layer mechanical stage makes it easy to navigate your specimens, and the graduated focus ensures that you can get a close-up view of even the smallest details. Plus, the stage stop prevents your specimen from drifting off the stage, so you can focus on your work without having to worry about losing your sample.