Microscope Specifications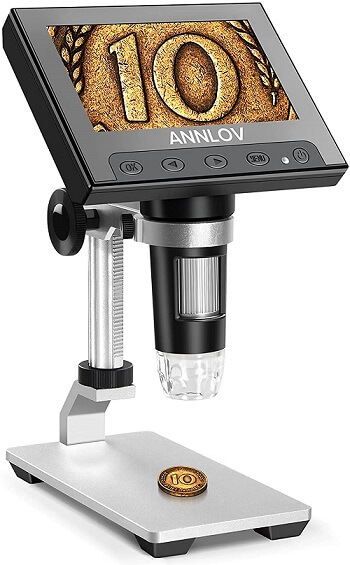 ANNLOV N2 4.3″ LCD Digital Microscope provides magnifications of 50x-1000x. It allows you to view the smallest details of specimens clearly such as coins, plants, etc.
The 4.3 inches LCD allows you to see the observation clearly on the screen. You can also store your observed images on the SD card (Maximum 32 GB).
The rotating focus wheel allows you to focus on the specimens according to your observation need.
It is easily connected to the PC via a USB port. But it supports only Windows, not MAC OS.
The adjustable lights help you to show the observing images of specimens more clearly and sharply.
It is built in a 2000mAh rechargeable battery that provides you with a long-lasting battery time.
ANNLOV LCD Microscope is a decent gift for students as well as for professionals. It is easy to operate and observed.
Looking to take your microscope experiences to the next level? Then you need the ANNLOV N2! With magnifications of up to 50X-1000X, this bad boy will let you view the tiniest details of specimens with stunning clarity. Whether you're looking at plants, coins, diamonds, or anything else under the microscope lens, the ANNLOV N2 is sure to impress. Plus, it makes for a great gift idea for kids and adults alike! So don't wait any longer – order your ANNLOV N2 today!
This electronic microscope has a built-in 4.3-inch screen that makes it perfect for outside use! With images and videos saved to a microSD card, you can capture your observations with ease.
Peering into the microscope at school was always so boring. You had to strain your eyes to see anything, and the teacher would drone on about whatever you were looking at. But now with ANNLOV N2, science class is a lot more fun! This easy-to-use microscope has a 4.3-inch screen that makes it easy to focus on your specimens. Plus, with its stylish design, you'll be the envy of all your classmates. Don't miss out on this must-have for any budding scientist!
This nifty little microscope camera is perfect for anyone who wants to take a closer look at the world around them. Whether you're a scientist, student, or just curious about the natural world, this microscope will let you see things you never could before. Not to mention, it also doubles as a PC camera! So if you need to connect with someone over video chat, this little guy has got you covered.
ADJUSTABLE ALUMINUM ALLOY BRACKET: In this new digital USB microscope we use an adjustable aluminum alloy bracket instead of the old version plastic bracket, making you view the object more steadily and accurately
Looking for a microscope that has adjustable LED lights? Look no further than ANNLOV N2! This microscope comes with 8 adjustable LED lights, which means you can view the tiny detail clear and bright in any environment. Whether you're in a dark room or a bright lab, ANNLOV N2 has you covered. Plus, it's easy to use – just slide the switch to adjust the brightness. So don't go another day struggling to see what's on the slide – get yourself an ANNLOV N2 microscope today!
With the ANNLOV 4.3″ LCD microscope, you can get a close-up view of the world around you! This handy gadget is perfect for inspecting insects, coins, jewelry, dissecting specimens, and more. It's also great for kids' education and even skin inspection.
FAQs
Can you illuminate the specimen from the bottom somehow?