Microscope Specifications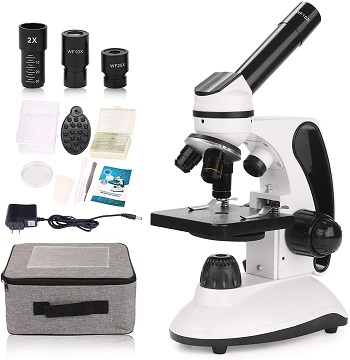 Lab Compound Monocular Microscope 40X-2000X for Beginner contains a monocular tube built-in 2x FMC multiplier lens(removable) and WF10x, WF25x eyepiece with optical lens, 3 objective lenses(4x 10x 40x) with the rotations of 360 degrees monocular head provide the magnification settings 40/100/250/400/1000x.
It has built-in dual-LED illumination that provides you clear and sharp images with high resolutions.
The metal frame provides you long-lasting use and the rotatable 360 degrees monocular head reduces your neck and eye strain.
All the useful accessories are available in the Microscope kit.
It is designed in such a way to easily operatable for students and for those who do not have well-informed about biology.
Do you remember the excitement of exploring the world through a microscope for the first time? Well, now that feeling can last a lifetime with the BNISE Microscope! This powerful little tool has four magnification settings – 40x, 100x, 250x, and 400x – to let you explore everything from bacteria to bugs in stunning detail. The Monocular tube built-in 2X FMC multiplier lens(removable) and WF10X, WF25X eyepiece with optical lens provide clear images every time, while the cooperation objective lenses(4X 10X 40X) give you plenty of viewing options. And there's no need to worry about sharing this microscope – it's perfect for both
This microscope is perfect for viewing specimens whether you're a kid or an adult. With its dual light LED illumination, you can see opaque objects illuminated from above and translucent specimens illuminated from below. Plus, the bottom LED light can be adjusted to your liking.
The BNISE microscope is perfect for anyone interested in exploring the world around them. Its professional design and high-class materials make it easy to use and durable enough for everyday use.
Do you love spending time exploring the world of tiny creatures and organisms? Then you need BNISE's Microscope for Adults and Kids! This amazing tool comes with a variety of useful accessories to help you get the most out of your bio-observations. Slide in a slide with a specimen, pop on the phone adapter to take pictures or record videos or use the Petri dish to culture bacteria. There's even blotting paper to collect specimens, stickers to label slides and dishes, tweezers to handle delicate objects, and mirror paper so you can see what's going on underneath your microscope lens. With BNISE, there's no limit to what you can discover!
If you're looking for a microscope that will let you explore the wonders of the life sciences, look no further than the BNISE. This 40X-2000X microscope is perfect for students, kids, adults, beginners, scientists, and hobbyists alike. It's ideal for school or home teaching and provides one-on-one instruction.