Microscope Specifications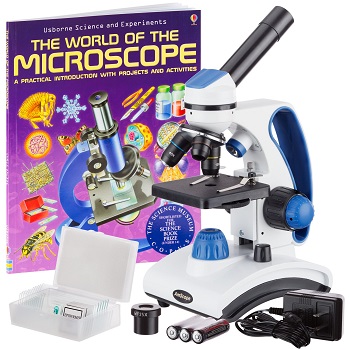 Amscope M162C-2L-PB10-WM comes with the optical monocular microscope with top and bottom LED light that provides high quality and clear images of the observations.
The wide field magnifications of this microscope from 40x-1000x provide high images quality.
It comes with a sturdy metal frame with coaxial and fine focusing.
It contains a Single Lens Condenser and 6-Hole Disc Diaphragm for high magnifications and provides clear images of the observations.
If you're looking for a microscope that will give you a clear and concise view of your specimens, look no further than the AmScope M162C-2L-PB10-WM. This top-of-the-line microscope offers five different magnification levels, so you can see even the smallest details with ease. The sturdy metal frame ensures years of use, while the single-lens condenser and 6-hole disc diaphragm provide exceptional clarity.