Microscope Specifications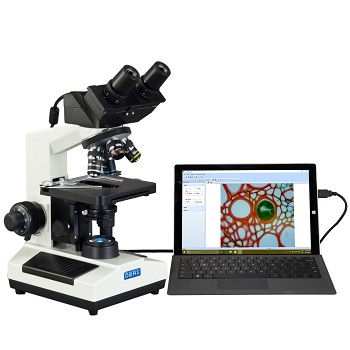 OMAX MD827S30L provides magnifications of 40X-100X-250X-400X-1000X-2500X with 2 eyepieces of WF10x and WF25x. The objective lens of Achromatic DIN is 4x, 10x, 40x(S), and 100x(S, Oil). The viewing head rotates 45 degrees.
The nosepiece is revolving quadruple, stage x-y stroke (travel range), and NA1.25 Abbe condenser with iris diaphragm.
LED light, focus adjustments, adjustable intensity, and fine knobs on both sides which provides the image more clear. The required Power supply of 100V-240V(UL approved)
The digital camera of true color 2592×1944 pixels(5MP), and frame speed of 2fps at 2592×1944, 3fps at 2048×1536, 5fps at 1600×1200, 7.5fps at 1280×1024.
Easily operatable and easily connectable with windows as well as MAC OS with USB cable. It also offers capturing still images, stitching EDF, Video recording, and measuring functions.
This amazing microscope is perfect for scientists of all ages! It has a total magnification of up to 2000X, and it's capable of viewing both biological and compound specimens. The digital binocular head ensures a clear view every time, while the adjustable eyepieces make it easy to get the perfect viewing angle.
Bored of the same old microscopes? Well, look no further than the OMAX – MD827S30L Digital Biological Compound Microscope! This bad boy has a stain-resistant double layer stage size of 5.5inch x 5.5inch, making it perfect for any lab experiment you can think of. Plus, the coaxial coarse and fine focus knobs make it easy to get that perfect focus every time.
This digital microscope is perfect for viewing biological specimens. It has a black palm rest on the base, and it comes with a transmitted (lower), replaceable 3W LED light, variable intensity. The metal framework ensures durability, while the power supply allows you to use it anywhere in the world.
The OMAX MD827S30L digital compound microscope is perfect for budding scientists and curious minds of all ages. Its built-in digital camera provides stunning 2048×1536 resolution images, and its user-friendly software allows for easy operation on Windows and Mac operating systems.