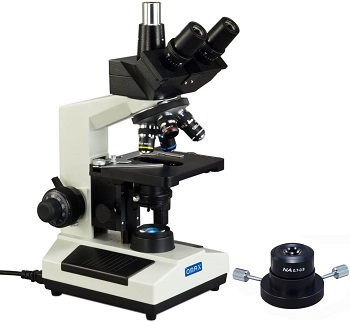 This powerful microscope can take you on a wild journey through the miniature world. With magnification up to 1000X, it's perfect for viewing everything from delicate flowers to tiny insects. The inclined and swiveling viewing head ensures that you'll always have the perfect view, while the adjustable eyepieces make it easy to get just the right focus. Whether you're a student, scientist, or simply curious about what's going on in the smaller world around us, this microscope is the perfect tool for exploration.
This OMAX M837L-A191 Trinocular Compound Microscope is perfect for budding scientists of all ages! It features a revolving quadruple nosepiece, stain-resistant double layer stage, and phototube adjustment range of 5/8inch, making it easy to get the perfect view of your specimen. Plus, with coaxial coarse and fine focus knobs on both sides, and a rack and pinion adjustment with tension control, you can easily adjust the microscope to your exact specifications.
This microscope is perfect for viewing objects up close. The focusing knob can be locked in place so you can keep your specimen in focus during observation or transport. Plus, the brightfield condenser and dry darkfield condenser both have adjustable settings so you can get the perfect view every time.
With its black palm rest and LED illumination, the OMAX M837L-A191 Trinocular Compound Microscope is perfect for labs and classrooms alike. Its metal mechanical components are built to last, while its 100V~240V 50/60Hz worldwide range ensures it can be used anywhere in the world.
This microscope is perfect for students and professionals alike. The 5-year warranty against manufacturing defects ensures that you'll be able to use this microscope for years to come. Plus, the trinocular design makes it easy to capture images and videos of your specimens.