Microscope Specifications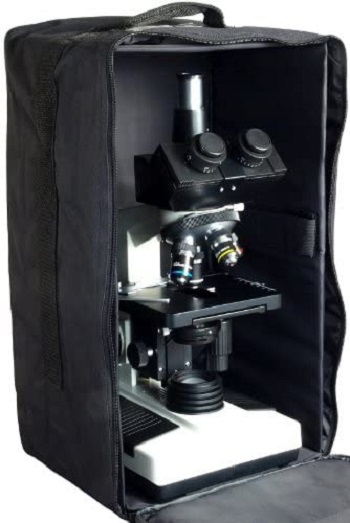 The main area (head) of OMAX XM837SA187V Microscope can be inclined at 45 degrees by revolving the trinocular, which can revolve in almost all directions (360 degrees), the field of; the measures up to 10x and 20x. The magnification this microscope provides is a very high magnification of up to 40x to 2000x.
The light comes from the lower area, and the light source type used is halogen light. Automatic double portions stage size varies from 5-12 inch x, 5-1/2 inch (140mm*140mm) moving span ranges from 3-inch x to 2-inch x.
Focus can be adjusted accordingly at both sides of the microscope. Some knobs and a coaxial coarse are present. 1.25 abbe condenser NA.volts ranges worldwide (100 V ~240V) 50/60H2. The brand of this microscope is OMAX, and the material used for making this microscope is vinyl. The objective lens this microscope has is achromatic. This compound microscope's dimensions are 11.02x, 7.48 xs, and 16.93 inches. The compound microscope provides a warranty for manufacturing defects for up to 5 years.
Introducing the OMAX XM837SA187V Trinocular Biological Compound Microscope! This top-of-the-line microscope is perfect for viewing specimens at up to 1000x magnification. It features a 45-degree inclined 360-degree swiveling trinocular head, four nosepieces, and two eyepieces. It also comes with an achromatic DIN 4x, 10x, 40x(S), and 100x(S, oil) objective lens. With a total magnification of 40x-80x-100x-200x-400x-800x-1000x-2000x, this microscope is sure to give you a clear and in-depth view of all your specimens!
This powerful microscope is perfect for students, professionals, and hobbyists of all levels. With a variety of adjustment options and high-quality construction, the OMAX XM837SA187V Trinocular Biological Compound Microscope can handle any task you throw at it. Whether you're looking at cells under magnification or examining bacteria cultures, this microscope is up to the challenge.
This microscope is ideal for biological compound observation. It has a coaxial coarse and fine adjustment knob on each side, making focusing easy. The focus knob can be locked in place for observation or transportation. The NA1.25 Abbe condenser with an iris diaphragm provides great detail and clarity. This microscope is powered by 100-240 volts and will work anywhere in the world!
The OMAX XM837SA187V Trinocular Biological Compound Microscope is perfect for students, researchers, and anyone else interested in examining specimens up close. This microscope has a five-year warranty against manufacturing defects so you can rest assured that it will last for years to come. Plus, the included vinyl carrying case makes it easy to transport from place to place.