Microscope Specifications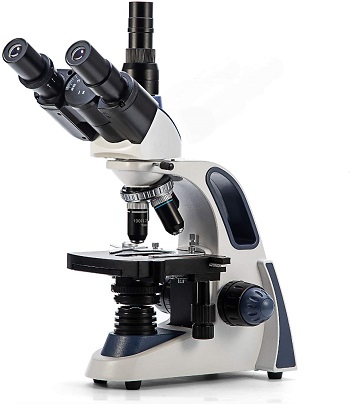 Swift SW380T compound microscope for viewing the tiny details of the observation.
A siednetopf head is fully rotatable for shared the equipped, the interchangeable wide-field glass eyepieces of 10x and 25x fixed at 30 degree to reduce neck strain. It is easily adjudtable in different interpupillary distances without losing focus.
4 DIN Achromatic objectives mounted which provides the magnifications of 40X, 100X, 250X, 400X, 1000X, and 2500X
Ultra-precise focusing system to make the observation more clear and sharper.
For Livestream, recording, and capture the magnified specimen images a trinocular head accepts an additional eyepiece and microscope.
The Swift SW380T compound microscope is perfect for viewing tiny details of specimen slides. With its sleek design, it's perfect for clinicians, high school and university science students, and enthusiastic hobbyists alike.
Looking for a microscope that's comfortable to use? Check out the Swift SW380T! Its professional Siedentopf head is fully rotatable, and it comes with interchangeable wide-field 10X and 25X glass eyepieces. Plus, the eyepieces are fixed at an ergonomic 30-degree tilt to reduce neck strain. No matter what your viewing needs may be, the Swift SW380T has you covered!
The Swift SW380T compound microscope is perfect for budding scientists and professionals alike. With its 4 DIN Achromatic objectives and revolving turret, this microscope offers 6 magnification levels, from 40X to 2500X. Whether you're studying plant cells or examining a crime scene, the Swift SW380T microscope is up to the task.
Looking for a microscope that can handle both coarse and extremely fine adjustments? Look no further than the Swift SW380T! Its ultra-precise focusing system makes it easy to get the perfect view of your specimen, while the trinocular head allows you to accept additional eyepiece and microscope camera attachments. So whether you're viewing, Livestreaming, recording, or capturing magnified specimen images, this microscope is up for the task!